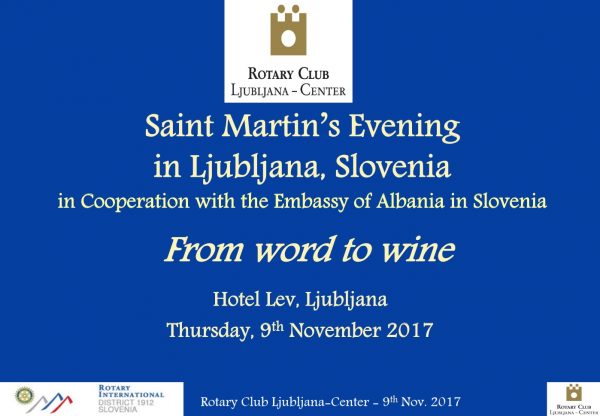 Dear friends,
we would like to invite you to attend the traditional Saint Martin's Evening located at Hotel Lev in Ljubljana on 9th November 2017. It is one of the key events of Rotary Slovenia District 1912. St. Martin's evening has been linking up cultural and culinary experiences, giving us new strength to carry on our Rotarian mission based on ideas and actions to help the ones in need.
This year it will be 10 years of the Saint Martin's Evening events organised by Rotary Club Ljubljana Center. However, in 2017 the event will be different, because we are extending it to the international arena by including culture and wines from Albania.
Saint Martin' Evening: club president Mr. Edvard Kobal, dr.
Culture of food
Mr. Uroš Hribernik, Chef; hotel LEV
Culture of wine
Carefully selected wines from Albania:
– Skenderbeu, Durres;
– Luani, Berat;
– Max, Leskovik;
– Rilindja, Korce;
– Belba, Kavaje.
Culture of music and visual arts
Marko Hatlak, internationally famous Slovenian accordionist
Deli z ostalimi: